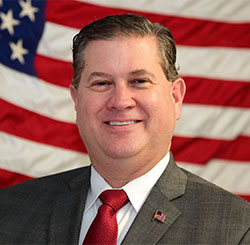 Mathew Muratore, State Representative for the First Plymouth District, was first elected to the House in November 2014. He was a Plymouth Selectman from May 2010-January 2015 and served as Chairman of the Board of Selectmen from 2012-2014.
In the 2015-2016 legislative session, Rep. Muratore is serving as the ranking minority member of the Joint Committee on Tourism, Arts and Cultural Development; the assistant ranking minority member of the Joint Committee on Health Care Financing; and a member of the Joint Committee on State Administration and Regulatory Oversight.
A Plymouth resident since 2001, Matt grew up on the South Shore and graduated from Cardinal Spellman High School. He is a graduate of Northeastern University with a degree in Business Management. Beginning his career as a nursing home administrator in 1991, Matt was the Administrator at Plymouth Rehabilitation and Health Care Center from 2003-January 2015 and is a member of the Massachusetts Senior Care Association. He is also co-owner and operator of Crayon College in Plymouth and Kingston.
Matt is active in various community organizations including Rotary, Knights of Columbus, the Plymouth Area Chamber of Commerce and the Plymouth Networking Group for Seniors. Matt serves on the PACTV Board of Directors and as an Advisory Board Member for the Elder Care Life Network.
Prior to his election to the Board of Selectmen, Matt was a member of the Advisory and Finance Committee for 5 years and was Board Member and Board Chairman of the Plymouth Council on Aging.
Matt has six daughters, and his wife Kristin is a local attorney.
The First Plymouth District in the Massachusetts House of Representatives comprises Precincts 2-8, 10, 12, 14 & 15 in Plymouth.